Galaxy Stationary Table
Standard Features





Deluxe Adjustable Headpiece
One piece adjustable chest with spring breakaway
Extension / Retraction of Length (Manual)
Pelvic Separation
Adjustable Chest (vertical)
Adjustable Pelvic (vertical)

Optional Features:





Lloyd's superior designed manual cocking drops
Manual drop Ankle
Total Dimension Flexion Headpiece
Rotating chest lumbar with breakaway
Multi-Directional Drop Pelvic
Snap-on Covers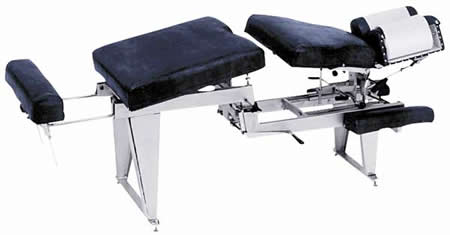 The Galaxy stationary

is an excellent value for the Chiropractor who just wants a basic table. All cushions, headrest and ankle rests are fully adjustable. Chest and pelvic cushions can be separated manually to accommodate shorter or taller patients. Heights are available from 18" to 28".

Galaxy Stationary Table Specifications
Height Range
18" to 28"
Fully Extended
83" long
Fully Retracted
62" long
Cushion Width
21"
Table Width
22"
Shipping Weight
200 lbs. (approx)
Actual Weight
150 lbs. (approx)




Chest and pelvic cushions

can be separated manually by as much as 8". Fully adjustable headrest and elevating, extendable ankle rest position manually to accommodate patients 5' to 7'.