Galaxy 919HS Elevation, Hylo Adjusting Table
Coming Soon, Please check back
Standard Features




Standard Features
Hydraulically controlled elevation
Automatic Height Select
Tilting (Hylo) capability
Deluxe Adjustable Headpiece
One piece adjustable chest
Extension / Retraction of Length (Power)
Pelvic Separation
Adjustable Chest (vertical)
Adjustable Pelvic (vertical)
Electronic height selector
Tilt Safety Switch
Speed Adjustment for Hylo feature
Spring Breakaway chest

Optional Features:




Lloyd's superior designed auto and manual cocking drops
Manual & Automatic drop Ankle
Total Dimension Flexion Headpiece
Rotating chest lumbar with breakaway
Multi-Directional Drop Pelvic
Snap-on Covers

*Shown with Lloyd's Auto & Manual Total Response Drop System

The Galaxy 919HS is the ultimate for the hard working practitioner who refuses to compromise. By being able to raise the table to any desired height, from 18" to 38", stooping and bending is virtually eliminated. You are less fatigued by the end of the day, leaving more energy for your family and recreation. Also available on the 919HS is the All-New Lloyd Total Response Drop system on all sections. The Lloyd Total Response Drop System features a one-piece chest cushion while offering a dorsal and lumbar drop that cock and drop individually.


919HS Table Specifications
Fully Extended
84" long X 22" wide
Fully Retracted
76" long X 22" wide
Fully Raised Height
38"
Fully Lowered Height
18"
Shipping Weight
450 lbs. (approx)
Actual Weight
395 lbs. (approx)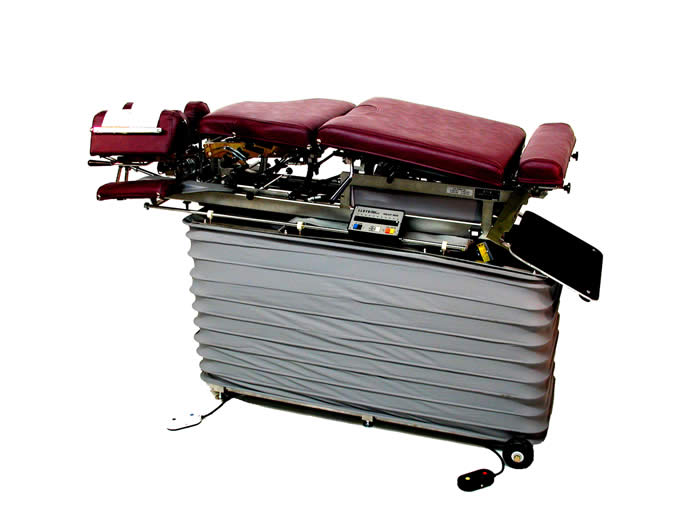 The 919HS is shown
with optional automatic and manual cocking, head, chest, lumber and pelvic drops. Lloyd's drop design allows the amount of force applied to be equal whether that force is applied on the right, left or center of the pelvic cushion, making them superior to other drops on the market. The automatic cocking drops are built into the table with controls on each side and can be set manually in the event of electric failure. There is no need for a noisy air compressor. They are quieter and smoother then any other drops...the finest money can buy. The table is also shown with optional snap-on covers.
Desirable features
of the Galaxy 919HS our most popular adjusting table
A broader range of horizontal elevations
Extends and retracts to accommodate 5' to 7' patients with a touch of a switch
Solid state electronic operation
Smooth, quiet, hydraulic operation
All cushions raise and lower
Adjustable controls conveniently located on both sides of the table
Chest section on deluxe table has breakaway feature with adjustable tension(optional on drop chest and lumbar sections)
Unmatched lifetime stability
New manual and automatic cocking drops are optional on all sections
Lloyds '95 deluxe headpiece with or without optional drops tilts elevates with 8 position openings